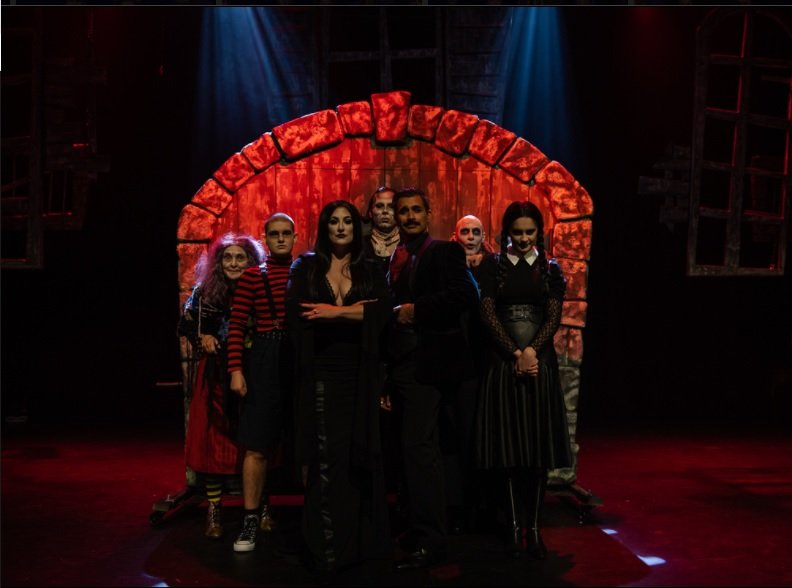 "They're creepy and they're kooky, Mysterious and spooky, they're all together ooky The Addams family…"
It's always an absolute pleasure to design makeup for theatrical production, but to design for a show like The Addams Family, is a dream!
The Addams Family was originally a cartoon in the late 1930's which followed a quirky and bizarre family. It became a tv sensation in the 1960's with spin off shows in the 1970's and the blockbuster movies in the 1990's. the musical was staged in 2009 and the story is set in modern day where the dark, macabre Wednesday (beloved daughter of Morticia and Gomez), is now 18 and has fallen in love Lucas Beineke, a sweet, smart boy from a "normal" and respectable family, the Beinekes have been invited to the Addam's home for dinner. In one fateful, hilarious night, secrets are disclosed, relationships are tested, and the Addams family must face up to the one horrible thing they've managed to avoid for generations: change.
When designing makeup for a show like this, you have to keep in mind that many of the characters in the show have a recognisable "look or style" that the audience expect to see, so it was important to work with these elements when I designed the makeup. I wanted them to look quintessentially like their character, but put a modern twist in where I was able to.
With consultation with the Zealous Productions show producer Dixie Johnstone (who also took on the Matriarch role of Morticia) the designs were workshopped and photographed and then changes were made to some of the designs after the makeup was viewed onstage under stage lights after the technical rehearsal.
As I was also a performer within the production it was important that I had skilled and reliable makeup artists to take on the task of following the makeup brief and I was lucky to have Shannon Murphy and Pearl Naidoo on the team.
The production received rave reviews and it was an awesome opportunity to have been a part of its success!
"The Addams Family – the musical was performed at the Regal Theatre Subiaco in July 2021"
Photos courtesy of Stephen Heath

---